Part of the medium active manual wheelchair range.
Designed with users and clinicians in mind.
The Invacare Action®5 has been designed for the more active user looking for an affordable chair with a great driving performance. With its tried and trusted design, the Action®5 range can cater for several needs and requirements due to its superb level of on chair adjustability and its vast configurability options.
Make it personal
The Action®5 & Action®5 Rigid give you the freedom to design a chair to suit your individual personality. There are a wide variety of colour options available and you can use this colour selector to find your perfect combination.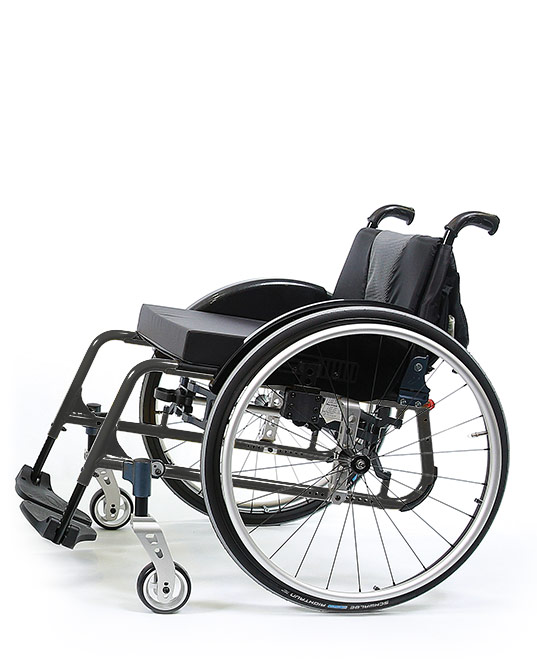 * Colours may vary slightly from those displayed above
Quality and style
The Action®5 has a vast array of features and options designed to give you the perfect fit for your lifestyle. In addition the chair is cross compatible with other Invacare mobility products, allowing you to build upon the standard Red Dot Award winning features, reaching a new level of personalisation.
1/6
Adjustable Seat
Seat adjustments can be made via easy to use straps, allowing the centre of gravity to be fine tuned. In addition, there is a small pocket underneath the seat to store smaller items such as phone or keys.
2/6
Range of legrest options
The legrests can easily swing either inwards or outwards, with 70o, 80o or 90o legrests, elevating legrests or amputee support options. In addition an 80º fixed front frame is available for more independent users.
3/6
Swing away and removable armrests
Armrests can be removed or reversed and there is a release lever to assist with transfers. A simple screw setting allows the position of the armrest to be fixed for easy access when flipped backwards. There is also an option to have a hemi-armrest.
4/6
Backrest cover
The backrest cover for the Invacare Action®5 features a pocket with a reflective strip for better visibility, improving the autonomy and the safety of the user.
5/6
Lightweight mudguards
The stylish mudguards are lightweight to keep the overall weight of the chair to a minimum. They can also be easily removed for cleaning.
6/6
Stylish front wheels
The lightweight front wheels offer a sporty, stylish look. Sizes are available in 4" to 7" - including an aluminium soft roll option - with either a silver, purple or blue colour accent.

What our customers think
Read our customers thoughts on the new Action®5
Discover a wheelchair that blends reliability and comfort with adjustability and configurability. The Action®5 range is available now, so contact your local dealer or click below.